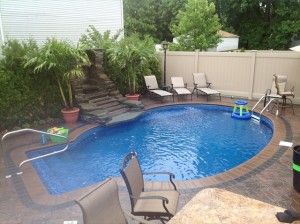 Advanced Site Contractors specializes in in-ground pool construction in Staten Island and Brooklyn in metropolitan NYC and in Northern and Central NJ.  We also provide comprehensive pool maintenance services for in-ground and above ground swimming pools, as well as repairs and pool accessory installation.
NY and NJ Swimming Pool Services
For over 25 years, we have been designing and building extraordinary outdoor areas for our customers.  As a full-service exterior landscaping and design company, we also specialize in the design, installation and construction of in-ground swimming pools.  Pools are often a key element of a home's overall landscape design and add to the beauty, functionality and enjoyment of any outdoor space.  We offer the following swimming pool services:
In-ground Pool Installation – We handle all aspects of in-ground swimming pool installation, from custom design and excavation to swimming pool construction, as well as the installation of pool surrounds and pool landscaping.  We pride ourselves on not outsourcing any aspect of the project so you can count on our qualified contractors to get the job done right.
Pool Maintenance – We offer routine weekly maintenance for inground swimming pools, above ground pools, spas and hot tubs.
Pool Liner Replacement – Our pool specialists replace pool liners in in-ground pools when necessary.
Pool Repairs – We offer an in-ground pool repair service, and can take care of any issues with the pool itself or the surrounding pool area (such as the pool surround).
Seasonal Pool Opening and Closing – Let our experts handle your pool opening and closing so you don't have to!
Pool Safety Covers – We install pool safety covers to provide you with peace of mind and keep debris out of the pool when it's not in use.
Pool Surrounds – As paver and concrete experts, you can count on us to create beautiful and durable patios and pool surrounds using pavers or other materials so you can fully enjoy your backyard oasis.
Pool Landscaping – We add beauty to your pool area with custom landscaping design services that exceed expectations.
Pool Fencing – We install fencing around pools to add to the safety and privacy of your backyard pool sanctuary.
Contact Us For NY and NJ Pool Services
For more information about the premier inground pool construction services we offer in Staten Island, Brooklyn, Manhattan, Northern NJ or Central NJ, or to discuss how we can help you enjoy the backyard of your dreams, complete with a custom-built swimming pool, call us today at (718) 984-7483.  If you prefer, you can contact us by filling out the form on the side of this page and we will get back to you.