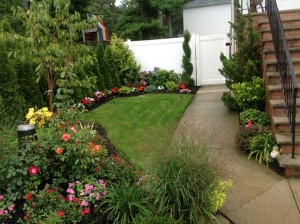 Advanced Site Contractors offers residential and commercial landscape design services in the metropolitan NYC area, including Staten Island, Brooklyn, Manhattan, Central and Northern NJ.  Our expert landscape designers believe that virtually nothing can enhance the value and enjoyment of a property like a well-planned and well-executed landscape design.
Landscape Design Services
For over 25 years, we have been designing landscapes that not only meet, but exceed, expectations.  We start by carefully understanding your design tastes, goals and expectations, then assess your property's limitations and benefits, before custom-designing a landscape that works well with your home's or building's key elements and features, as well as your budget.
Once designed, we utilize our own forces to create your new landscape.  Whether you need a few new flower beds or are interested in a garden oasis, complete with a paver patio, water features, we can handle all aspects of your landscape design and implementation.
Landscape Designed Around Other Exterior Features
As a premier provider of pavers and concrete products, we design and install a large quantity of patios and walkways in the area.  Naturally, each of these elements requires a well designed landscape surrounding the hardscaping features to truly complete the look.  Therefore, we provide landscape design services along with many of our paving and masonry services to provide you with all of the services you need in a "one-stop-shop".
Contact Us For Your Landscape Design Needs
For more information about our quality residential and commercial landscape design services in Staten Island, Brooklyn, Manhattan, Northern NJ or Central NJ, call us today at (718) 984-7483.  If you prefer, you can contact us by filling out the form on the side of this page and we will get back to you.