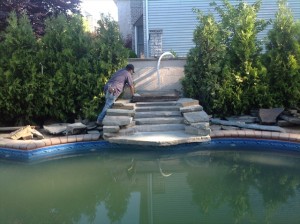 Advanced Site Contractors designs and installs landscape water features in metropolitan NY (Staten Island, Brooklyn and Manhattan) and Central and Northern NJ to enhance the look and feel of residential and commercial outdoor spaces.
Water Feature Design and Installation
Our water feature contractors are experienced in designing and installing water features that blend in seamlessly with the surrounding landscape.  We offer a variety of water feature options that can turn your backyard into a tranquil paradise or your commercial space into an interesting gathering spot.  Some of the landscaping water features we offer include:
Waterfalls
Fountains
Ponds
Water Gardens
Container Water Features
Bird Baths

Water Feature Contractors
At Advanced Site Contractors, we utilize our own designers and builders for all aspects of the project and do not sub-contract out any portion of the work.  That means that the quality you expect from us is the quality you will receive.  Our professional water feature contractors will work with you to determine what you want and will present you with unique options to achieve your desired outcome.  From small garden water features to large commercial fountains, we can provide you with an interesting addition to your outdoor space that is sure to please.
Interested in a Water Feature in NY or NJ?  Contact Us!
For more information about our residential and commercial water feature design and installation services in Staten Island, Brooklyn, Manhattan, Northern NJ or Central NJ, call us today at (718) 984-7483.  If you prefer, you can contact us by filling out the form on the side of this page and we will get back to you.