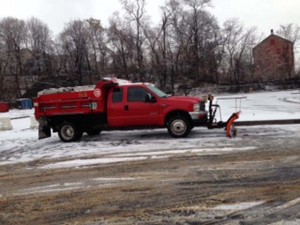 Advanced Site Contractors provides commercial snow removal services in Staten Island, Brooklyn and Manhattan in NYC, as well as in Central and Northern NJ.  No matter what type of weather comes your way throughout the winter months, from blizzards to ice storms, you can count on us to keep your commercial property snow-free, easily accessible and as safe as possible.
Commercial Snow and Ice Removal Services in NY and NJ:
Snow plowing
Sanding
Salt spreading
Shoveling and snow blowing
De-icing and ice management
Snow carting
Parking lot snow removal
Internal roadway snow removal
Loading dock snow removal
Sidewalk and pathway snow removal
Our snow removal and ice management services are designed to meet the varied needs of businesses and commercial properties, both large and small, throughout metropolitan NY and NJ.  We are equipped with a full array of snow removal equipment, including snow plows, front-end loaders, bobcats, salt trucks, snow blowers, salters, and other types of snow and ice removal equipment to keep your commercial property free from snow and ice.  We employ only experienced, dependable and reliable snow removal operators that are fully licensed and insured.
Commercial Snow Removal Properties Serviced:
Shopping centers and strip malls
Corporate and industrial parks
Office building complexes
Residential housing developments (condominiums, apartments, homeowner's associations)
Independent stores, restaurants, banks, theaters, etc.
Parking lots, private roadways, sidewalks and pathways
We offer seasonal snow and ice removal contracts, as well as "by the event" snow removal contracts so you can rest assured that when the white stuff falls, we've got you covered.  We carefully monitor weather conditions and have our equipment and operators ready to go when they're needed so you can count on prompt snow removal service once the flakes start to fall and can get back to business as usual.
Contact Us For Commercial Snow and Ice Removal In NY and NJ
It's never too early to plan for your commercial snow removal needs.  To find out more about our snow and ice removal services in Staten Island, Brooklyn, Manhattan, Northern NJ or Central NJ, or to sign up for a snow removal contract, call us today at (718) 984-7483.  If you prefer, you can contact us by filling out the form on the side of this page and we will get back to you.