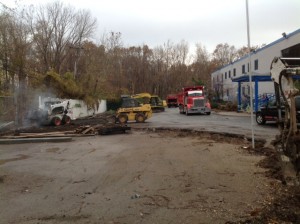 Advanced Site Contractors provides excavating and grading services in metropolitan NYC (Staten Island, Brooklyn and Manhattan) as well as in Central and Northern NJ.  Our experienced contractors can provide the excavation, back-filling and/or grading services needed when you are laying a new foundation, repairing a foundation, deepening a basement or grading against an existing foundation.  We also provide excavation services for site clearing, lot leveling, erosion control and drainage solutions. Our excavation services are available for both residential and commercial projects.
We have the proper equipment needed to provide excavating, back-filling and grading services, and all of our excavators and bobcats are operated by experienced, licensed and insured operators.  We can also truck excavated materials to other locations or haul away for disposal.  Whether you have contracted with us to complete a project that requires excavation and grading as part of the process, or you require only our excavation and grading services on their own, Advanced Site Contractors will provide you with the services you need with a commitment to completing projects on time and on budget.
Contact Us For Excavation Services in NY and NJ
To find out more about our excavation and grading services in Staten Island, Brooklyn, Manhattan, Northern NJ or Central NJ, or to discuss your excavation needs in more depth with one of our experienced excavation contractors, call us today at (718) 984-7483.  If you prefer, you can contact us by filling out the form on the side of this page and we will get back to you.